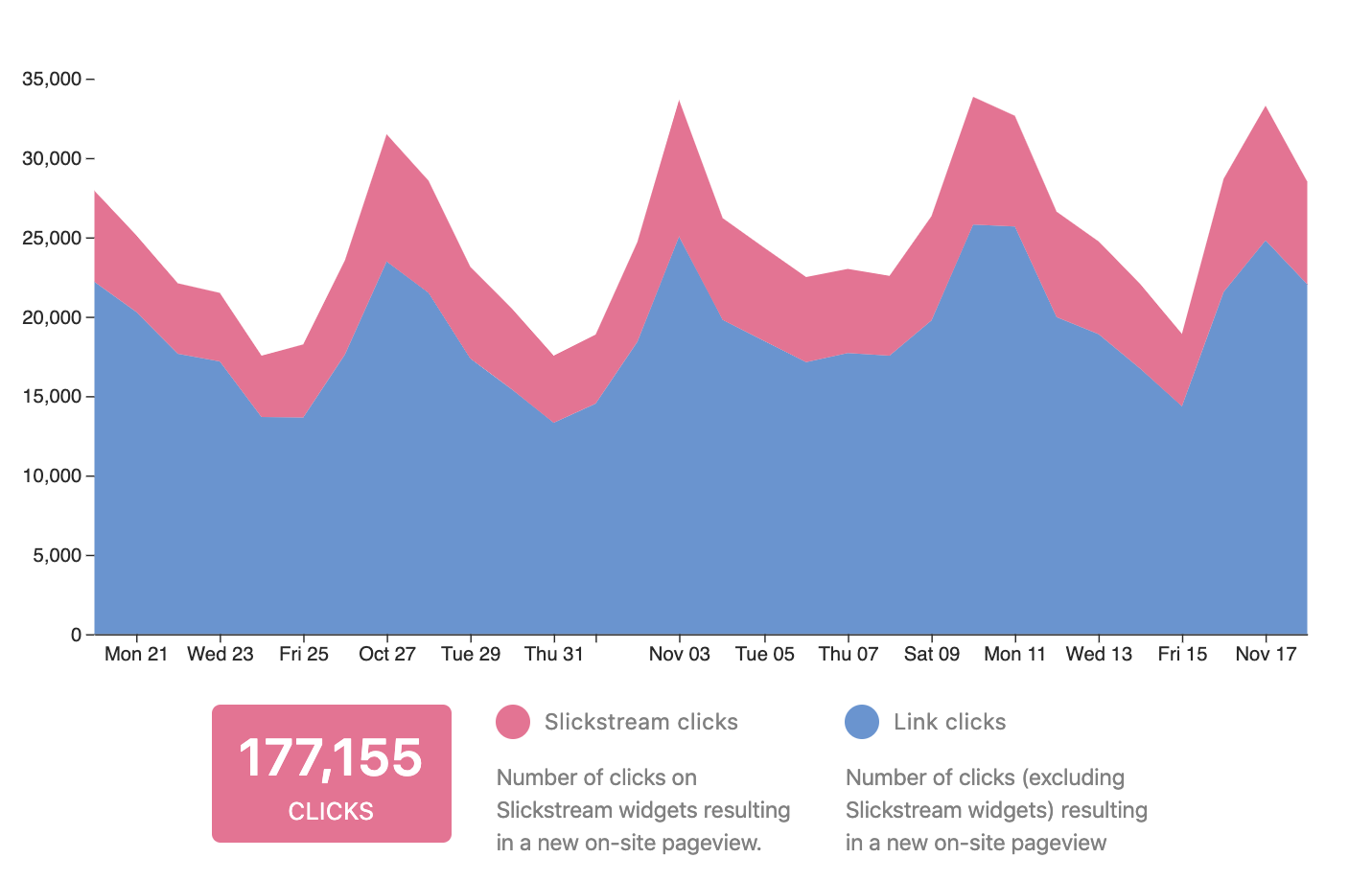 Here at Slickstream, we offer you a lot of options to increase your on-site engagement. Our search, discovery, and engagement tools are designed to blend seamlessly with your website, and to help users intuitively find more of your content. But how can you tell if they're working? That's where our analytics come in.
A Reimagined Info Page
This is the page that creators will see when they sign in, and as such, it's critically important to be both intuitive and informative. Here's what it looks like with some sample data: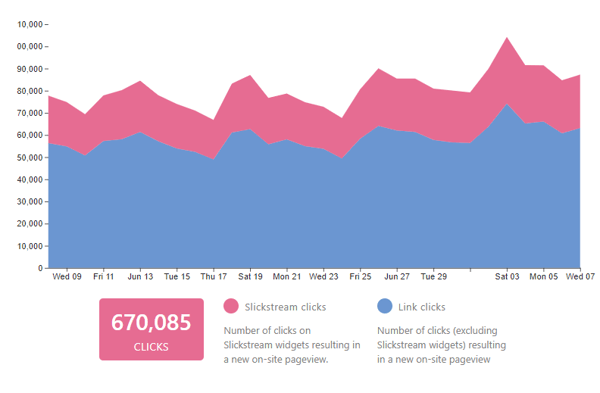 Above the fold, you can now see the total performance of each of Slickstream's tools, with each module linking to a more in-depth breakdown (more on that later).
Recommendations refers to clicks from our Filmstrips
Searches, Favorites and Games Played are raw totals of each of those actions
Members is a count of users who have added an email address to save their favorites. We've recently updated our Heartbeat tool to encourage this behavior, so its performance should already be climbing for most of our sites
Meanwhile, the chart shows total-intra-site clicks, with Slickstream's contribution in pink (including the total number of clicks we've generated). For reference, we generally account for 20-25% of a site's clicks once we're fully rolled out.
Further down the page, you can see more granular data on sessions, pageviews, bounces and activity.
Content
This is our most stats-heavy page, and for good reason: It's important.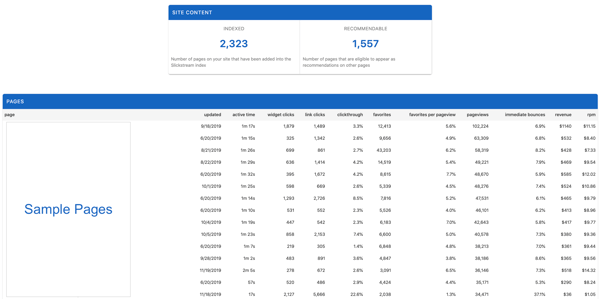 It's a sortable page-by-page breakdown of performance, including pageviews, activity, RPM and more. Want to know what's working and what's not? This should be your first stop.
Recommendations
Here's where you can see both the performance of your recommendations, and the connections between pages.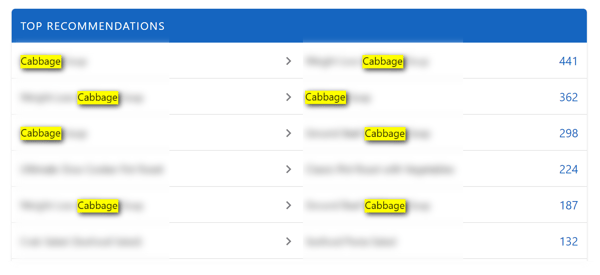 In this case, the chart shows overall performance while the connections sit in a more granular table below.
Searches
For many users, our search function is the reason they signed up to begin with. As such, we want to make sure it's as easy as possible to see both what people are searching for, and where it's taking them.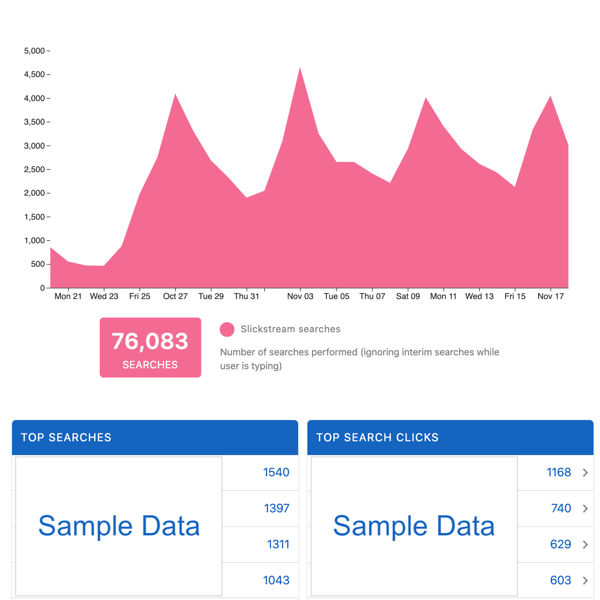 Some publishers use this data to inform content creation, while others use it to determine placement/optimization. But regardless of how it's being used, this page provides a level of granular insight into search that our users have been clamoring for.
Favorites/Membership
We'll combine these two since they're both tied to our Heartbeat tool.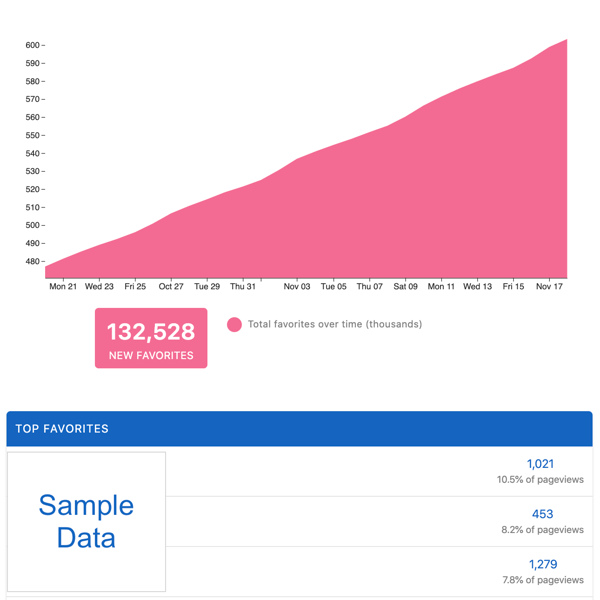 The favorites page shows a running total of all Heartbeat usage over time, as well as the pages that have been favorited the most.
The membership page, meanwhile, provides both raw counts and the individual email addresses to integrate with your mailing list (if you have that opt-in selected).
Games Played
Got Slickstream games on your site? You can track those too.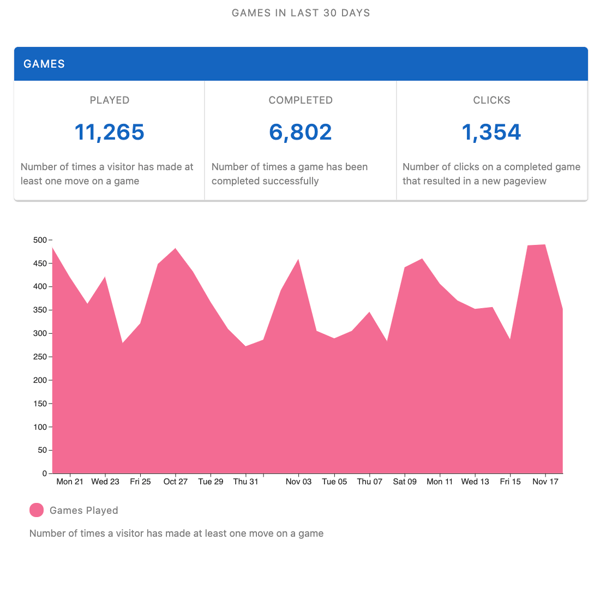 They might generate more clicks than you'd think!
Got Questions?
Want to learn more about our new analytics? We'd love to help! Just email us or fill out our contact form and we'll reply as soon as we can.
And if you're not using Slickstream yet... what are you waiting for? Sign up for your 30-day free trial of the Engagement Suite today!