One of Slickstream's key features is site-search. Visitors to your site will stay longer if they can quickly and easily find exactly what they're looking for. So we're always looking for ways to make search faster and better.
In our new release, you will notice a change in the experience. When you type in a search query, you may see category cards showing up above the search results. These category cards replace the filter buttons that used to appear below the search bar.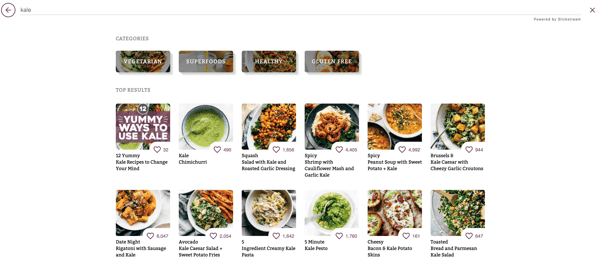 A category card shows you the name of a category on top of a card with a background image based on a recent post in that category. When a visitor taps on a category card, that changes the context for searching. This makes it easy to limit search results to within a specific category.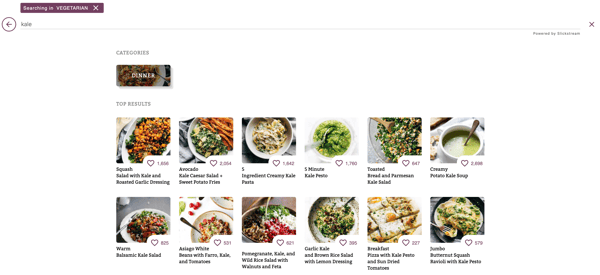 When you are searching within a category, a bar above the search box will tell you that. You can click on the X on that box to remove that constraint on results.
There's a bit of "magic" that determines which category cards will show up in any given situation. One obvious reason they may show up is if your search query matches a category name. For example, as you starting typing "brea...", you might see category cards showing up such as "bread" and "breakfast". But category cards may show up for other reasons as well. For example, if you search for "lemon", you might see a "Desserts" category card show up because we've figured out that a lot of things with lemon in them are in the Desserts category. You might also see subcategories of the current category showing up. For example, if you've chosen the "Desserts" category, you might see "Cakes" and "Cookies" categories showing up because they are child categories of Desserts.
If you don't like the way category cards work on your site, you can simply turn this feature off for your site in your configuration settings. In your portal, go to the Config page and click on the Site-Wide tab. In the Search Panel section find "Omit Categories" and set that to True. Or just ask us and we'll do that for you.
If you have suggestions or comments, we love to hear about them. A good way is to use the Requests and Suggestions area at the bottom of the Features tab on the Config page. Or just send us an email.