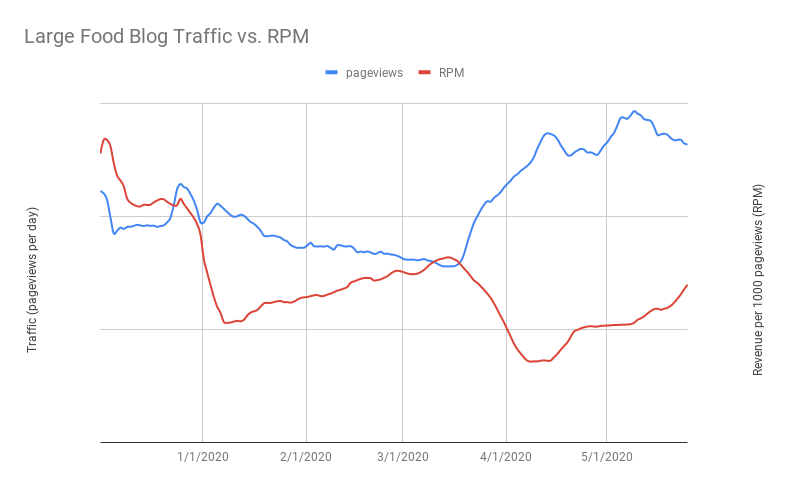 The food blogging business has not been immune to the effects of Covid-19. We heard many of our customers tell us about how advertising rates had dropped. And we were well aware that traffic levels to these websites grew significantly during the crisis.
Because of our rather unique position, we were able to put numbers to these stories. Sure enough, traffic levels have almost doubled during the crisis, while advertising rates fell to about half of their usual levels, although rates have been recovering recently.
Before getting too deep into the data, I'd like to first take a step back and explain what we collect, how we collect it and why.
Methodology and Background
Slickstream monitors every pageview from every visitor to our customers' websites. We collect information about these visits while respecting the privacy of all viewers.
Header Bidding is used by the majority of food blogs today to sell their advertising space. Our code is also running inside the browser and therefore can monitor the bid/sell process to track ad revenues. In reality, many ad networks also place ads that are outside of the header bidding framework. But separate studies comparing actual publisher revenue versus header bidding data have shown that they are strongly correlated, so these directional values are likely to be fairly accurate.
The large blog data combines and averages data across approximately 100 websites with a total of approximately 500,000 pageviews per day. The small blog data combines data from about 200 sites and about 200,000 pageviews per day. These numbers are not precise because the number of sites being monitored changed somewhat through this period.
Food blogs experience a strong weekly periodicity -- with much higher traffic on the weekends than weekdays. To make these charts more readable, we have used a trailing 7-day average in the numbers presented.
Finally, it's important to note that most food bloggers make money from advertising. They get paid a small amount each time a visitor to their site sees an advertisement. The standard measure of how much they get paid is called "RPM" -- short for "revenue per 1000 pageviews". This operates like most markets: when there is more competition for ad space, this drives the price (RPM) higher. And, conversely, if there is an excess supply of advertising space, this drives the price lower.
Analysis

With that out of the way, let's take a look at what exactly happened to these food blogs as a result of the Covid crisis.

Our larger bloggers typically have 500 thousand to 20 million pageviews per month. After the new year peak, you can see traffic levels declining slowly -- following the traditional seasonal trends for this market. Likewise, the year-end advertising crush is quite apparent -- keeping RPM levels very high until the end of 2019. Then, as usual, RPMs fall significantly after the holiday season ends. They then start to slowly increase as the year goes on.
On March 19, 2020, California issued its first shelter-in-place orders and within days many other states followed suit. The impact is very clear. You can see traffic rates spike -- presumably as people at home spend more time on food sites finding recipes for their families. And coincident with that, you see the RPMs drop off dramatically. The reduced RPMs are likely affected both by the increasing supply of advertising space (more pageviews) and the decrease in demand as companies start to constrain budgets.
As more viewers sheltered at home, traffic levels continued to rise until a peak in early May and have been declining slightly since then. Meanwhile advertising rates, after quickly hitting bottom started to recover steady almost immediately.
After the typical 2019 year-end revenue surge, larger food bloggers have experienced surprisingly stable income streams so far in 2020. The added traffic has approximately offset the reduction in RPMs.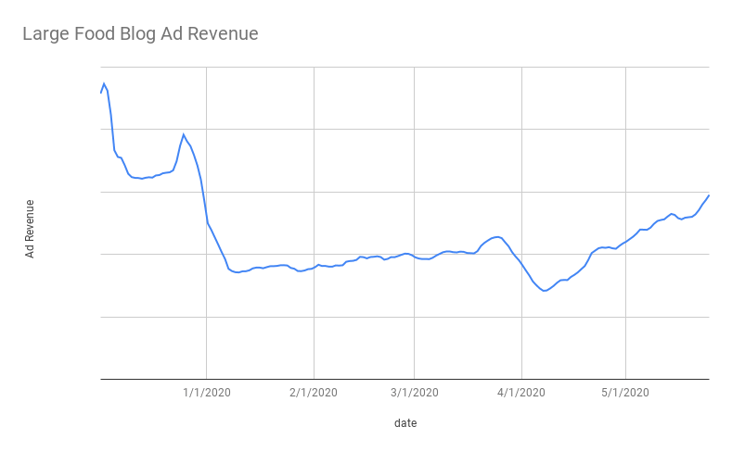 For the small and mid-size bloggers (50,000 to 500,000 pageviews per month), as you'll see below, the trends are similar, although somewhat amplified. In fact, for this group, the data suggests that revenue levels have recently climbed to typical end-of-year levels!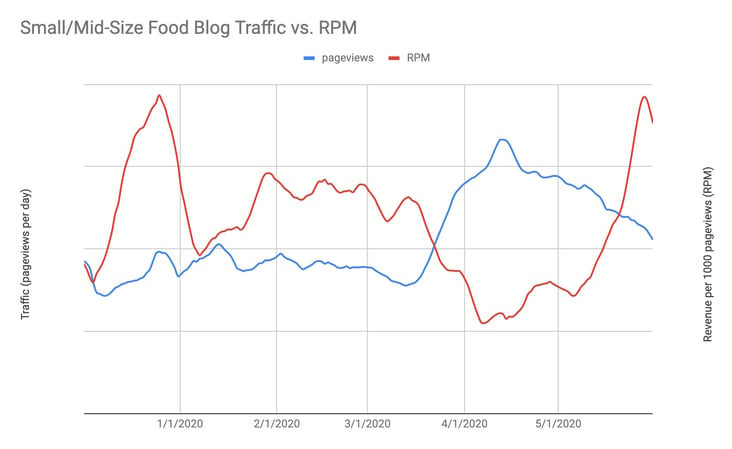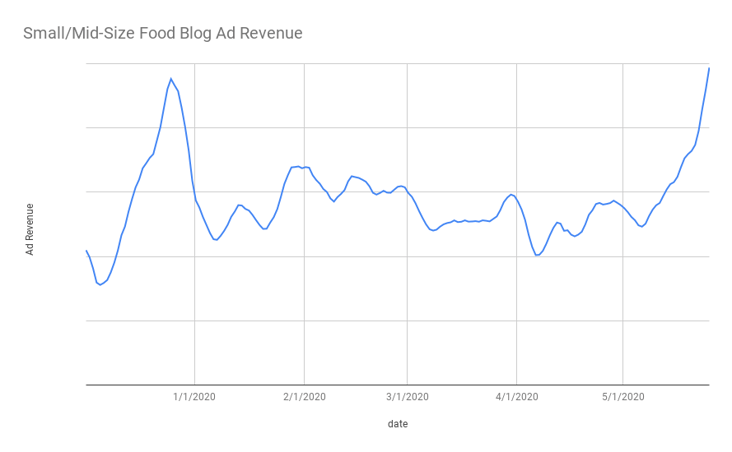 It's difficult to predict where this crisis will go from here. There are some signs that trends are starting to revert to normal levels. As shelter-in-place orders are lifted, and advertisers return to normal operations, that isn't a surprise. But, of course, no one can predict the future in these uncertain times.