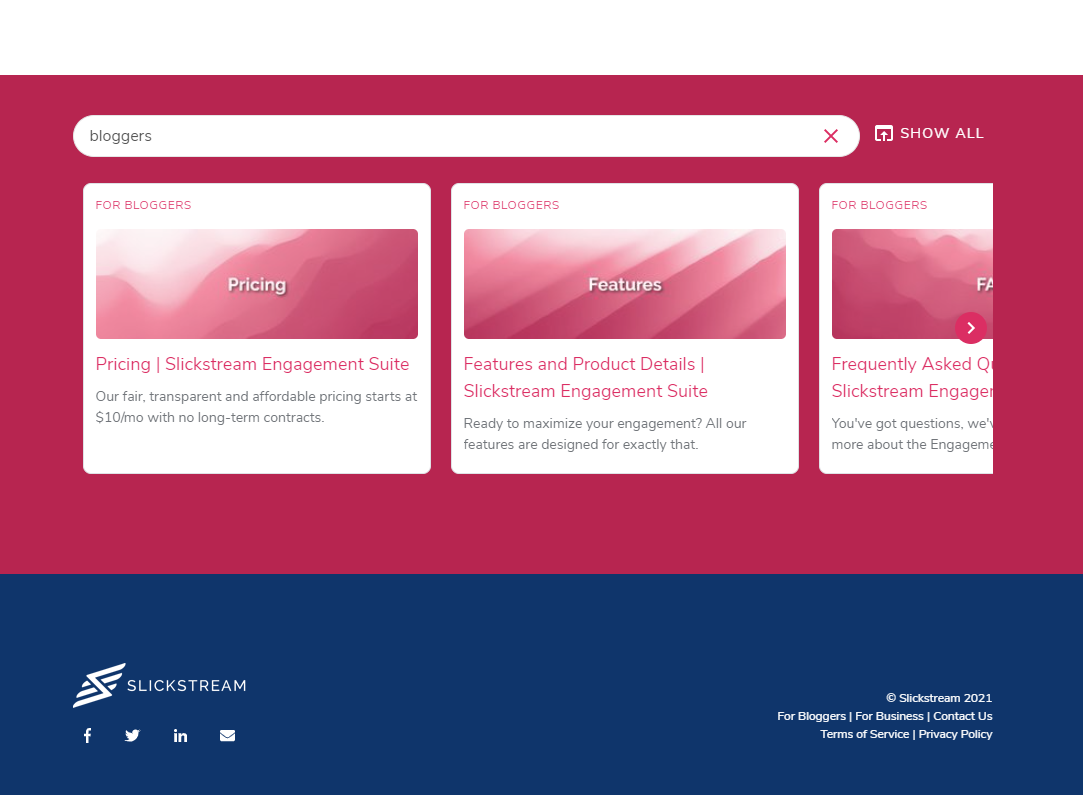 We've rolled out some new features to Slickstream this month, and one in particular is very exciting. Let's talk about Dynamic Content.
The Dynamic Content module is a new way for your visitors to engage with your content and navigate your site, and is available for all subscribers of both the Engagement Suite and Slickstream for Business. It is now the most versatile tool we offer, and incorporates the best of both search and recommendations.
Unlike our floating Search/Favorite features or the fixed Filmstrips, the Dynamic Content module can be injected anywhere on the page and can take on a variety of forms. For an example, look no further than the footer on this very website. We've configured it to display a simple search prompt:

But the magic happens when you start typing. Instead of opening the Slickstream search panel, the Dynamic Content module displays results in-line right on the page.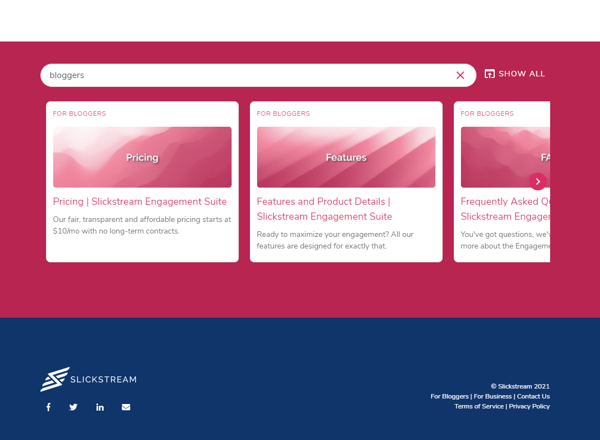 Ok, so it displays search results on page instead of in the search panel. Why does that matter? Great hypothetical question!
One important answer is that you can configure it to automatically display results based on an initial query. This can be incredibly valuable in guiding your visitors to specific content or topics, which addresses a pain point we've heard from many publishers. This use case is particularly fitting for home pages and landing pages with a lot of unfocused traffic, where standard recommendations aren't a good fit.
As an example, say you're a food blogger and have a landing page specifically for your dessert recipes. With the Dynamic Content module, you can create and place a grid of specifically and exclusively desserts! Or maybe you're someone who puts a lot of work into your videos. Now you can embed a carousel of recent videos directly on your home page.
Another reason it matters is that this enables us to significantly upgrade existing Content Grids. These are already an excellent way to drive clickthrough, and now will have increased configurability and an optional search component to capture the interest of even more visitors.
We'll have much more to come on the Dynamic Content module and its use cases, but for now let us know if you're interested in trying it out!