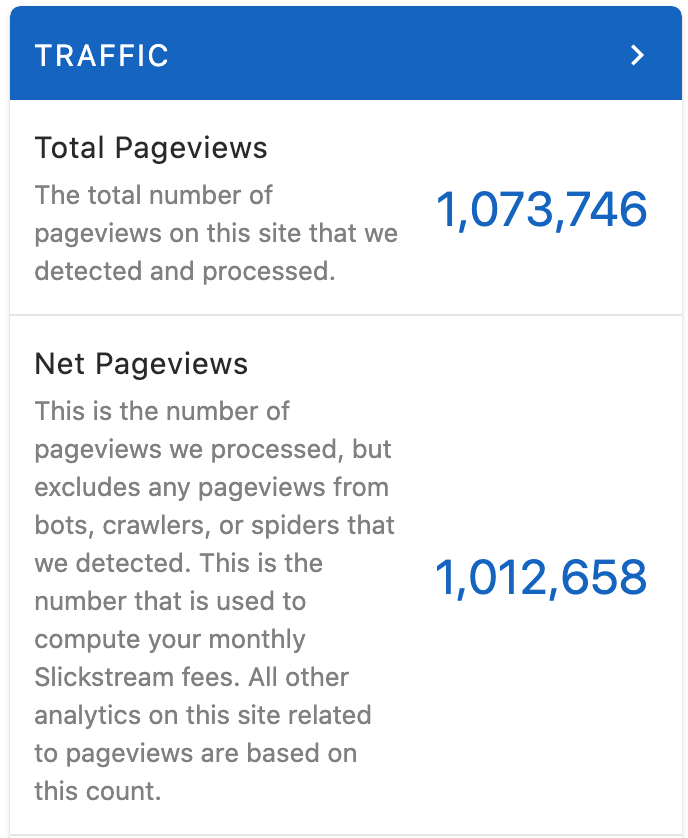 We're in the process of updating all sites with our latest release.
As usual, if you haven't already seen these changes, you should be seeing them sometime in the next few days as we roll them out to all sites.
Net Pageviews: Bots, Crawlers, and Spiders
We've heard concerns from some customers about how the statistics in your Slickstream portal don't match the numbers you see in Google Analytics. In a recent post, I explained where some of these differences can come from. We have now updated our analytics to make this easier to understand and compare.
The first source of confusion comes from bots/crawlers/spiders -- those entities on the internet that fetch pages from your site in order to index your content. Google does this, of course, but there are many others that do this as well. (In fact, Slickstream also does this in order to build and maintain a model of your content.)
Depending on how the bot works, you may or may not see these pageviews in Google Analytics. And there is a setting in Google Analytics that will omit these pageviews from your stats there.
In our case, we process these pageviews and they are counted as part of your pageview total. These pageviews from bots may or may not generate ad revenue for you, but we recognize that these are not "real" pageviews and therefore we have started to detect and separate them from your total. On the Info page in your portal, there is a new statistic in the Traffic section that shows you Net Pageviews -- i.e., the total minus any pageviews that we have detected as coming from bots, crawlers, or spiders.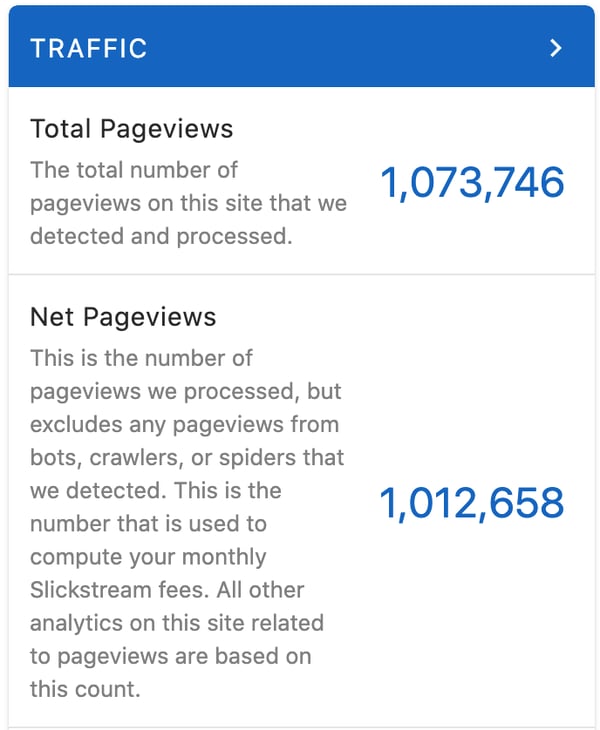 We've also made the decision, effective immediately, to change our billing system so that we now determine our fees based on net pageviews rather than total pageviews. Since net pageviews will always be the smaller of the two, this change can only decrease your bill.
Ad Blocker Detection
We have added support for detecting ad blockers. This means that when we process a pageview, we can tell whether the viewer is using a browser extension so that they are not seeing ads on your site.
This serves two purposes.
First, you can now tell what fraction of your viewers are using ad blockers -- and therefore are costing you ad revenue.
Second, most ad blockers inhibit events that get fired to Google Analytics, and therefore these pageviews won't get counted in your Google Analytics. That can lead to confusion because we will be counting more pageviews than Google Analytics does.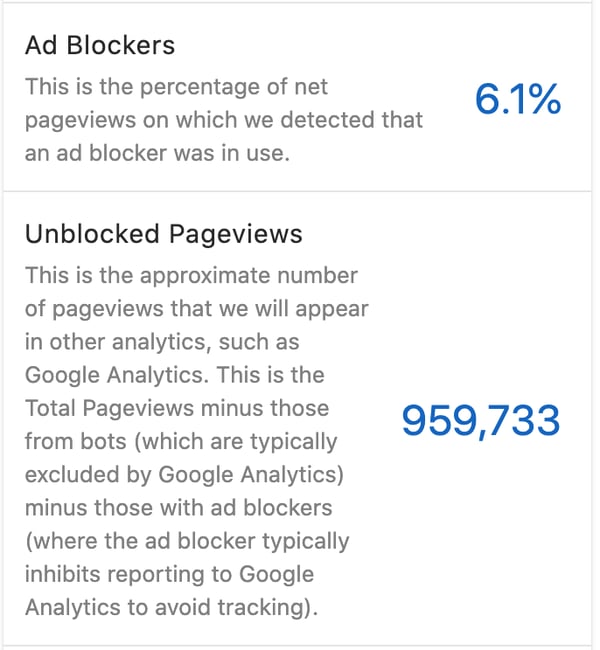 We have added two more values in the Traffic section on your Info page. The first tells you what fraction of your Net Pageviews are from viewers using an ad blocker. The second tells you the subset of Net Pageviews that are from viewers without ad blockers. This number is important because it is likely to come close to matching the total pageviews you will see in Google Analytics over the same period (the past 30 days) -- assuming that you have enabled the option in Google Analytics to ignore bots and crawlers.
Search Page Speed-Up
For larger sites, the Search page in your portal could get very slow to load. That's because we were analyzing every search on your site over the past 30 days. We've made some improvements so that we are pre-processing some of this information. There are still other speed-ups we want to do, but you should no longer see any timeouts and should see results appear much faster than before.
Category-Based Configuration
For some sites, we've had requests to configure Slickstream behavior differently depending on the categories associated with certain pages. For example, you might not want posts marked in the "personal" category from showing up in search results. We now have the ability to set up page groups based on categories.
At least for now, you still need to ask our support team to create the new page group for you, but then you'll be able to configure those page groups however you like.
Microsoft IE Edge Browser Support
Slickstream has not been working correctly for some viewers using Microsoft IE Edge browsers. This has been corrected so that all viewers using up-to-date Edge browsers should get a good viewing experience.
Note that Microsoft has announced that they are moving IE onto Google's Chromium code base for future releases. That will make it easier for us in future to ensure a consistent experience for IE viewers.