Slickstream's favoriting system allows your visitors to show their appreciation for a post or page and also allows them to build and store a list of their favorite posts on your site. You can read more about it here.
As a publisher, you can choose whether your visitors must sign in before they can favorite a post. This setting is in the config tab in your portal.
The default setting is that your visitors are not required to sign in to build their list of favorites. In this mode, their favorites are stored in their browser memory so that their list is available to them whenever they return to your site using that browser. The downside of this, is that if they want access to their list from another device or browser it won't be available. They do however have the option to sign in to "Protect your favorites". In doing so, they create an email/password combination that they can then use from any device or browser to view their list.

If you change the setting to "Require sign-in to favorite" then whenever a visitor favorites any page or post, a dialog box will pop-up requesting they sign-in before doing so.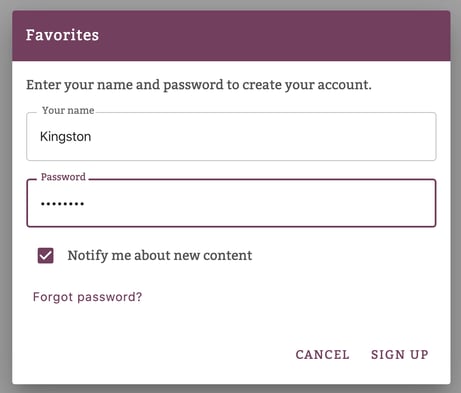 All email addresses collected during the sign-in process are visible in your portal under the Membership tab. If you set up an integration with your Mailing List Management provider then all the email addresses collected can be automatically added to your mailing lists.
Which mode is right for my site?
The trade-off is very simple. With the default setting, there is no "friction" in the favoriting system and, thanks to the playfulness of the fluttering hearts, we see very high (~5% of page views) favoriting rates. However, far fewer visitors sign in, as for most, storing their list of favorites in browser memory is sufficient and they have no need to sign in. Which in turn leads to far fewer email addresses being collected.
Conversely, if you "require sign-in to favorite", the favoriting rate will drop substantially but you will collect many more email addresses.
So, it really comes down to what you value more: high favoriting rates or more email addresses. Remember that you can change this setting at anytime, so the simplest way to work out what is best for you may be simply to experiment.
Don't hesitate to connect with us at support@slickstream.com if you have questions about these features or any others.