Data-Driven Growth: How to Use Slickstream Analytics

Slickstream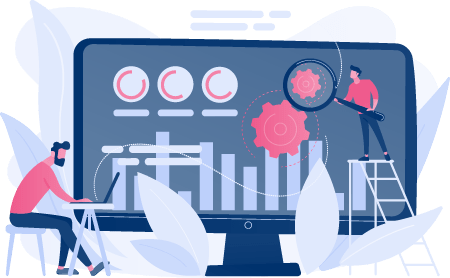 One of the best parts about subscribing to Slickstream is the wealth of data available in your analytics portal. It features content insights, clickthrough data, search queries, recommendation pairs, individual widget usage, and much more. To be honest, we know it can be a little overwhelming!
That's why I wanted to take some time today to outline some of the best ways our publishers use Slickstream insights to grow their sites, and to show off some of the information you may not have realized was there. Let's dive in:
1) Finding hidden gems in the content table
To begin with, there's no better place to start than the content table. It's the most detailed page in the portal, and almost certainly the most intimidating. In it you can find a sortable table of your content with data from the last 30 days, ranging from clickthrough rate to estimated revenue. And while that's all well and good, we sometimes hear publishers asking us "so what do we do with that information?"
What I like to point to as the best first step is to identify content that's resonating with your audience. A great measure of that is the percentage of visitors who add it as a favorite. In the sample data below, we've used that metric as a starting point sorting. As you can see, the top piece of content is a complete standout performer, with a ton of traffic and a whopping 12.6% favoriting percentage. But this sample publisher would already know that. What's really interesting is below.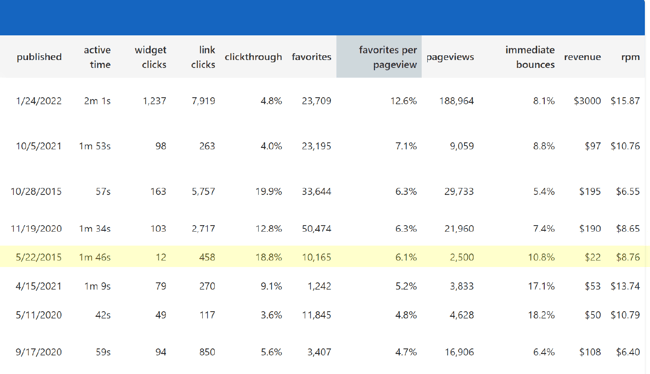 Take a look at the post highlighted in yellow. It's 7 years old and has very few pageviews in the last 30 days (relative to its surrounding content). But it's one of the highest performers on the site in favorites per pageview, generates a tremendous amount of active time among visitors who land on it, and keeps people clicking nearly 20% of the time! This is content that people love, but not enough are finding it.
So what should this publisher do? Get this content in front of more people! Depending on publisher preference, this could mean...
Pushing it as-is across their social and email channels
Republishing and/or updating the post to generate more new traffic
Creating more posts centered around similar topics
The important thing is they've found something that resonates with their audience but isn't currently getting enough attention.
2) Seeing what users are searching for (and if they're finding it)
Let's move over to the search tab. This one's a little more straightforward: it shows the top search queries on a site, and the top articles that were clicked on from search.
What's interesting in this sample food blog data is the relative frequency of one term over the rest. As you can see below, chicken reigns supreme.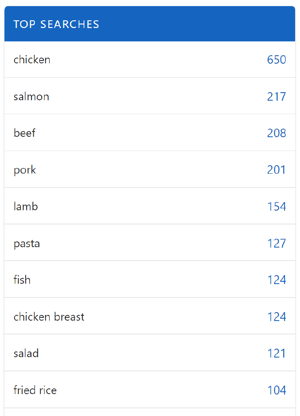 It's the top search term on site by a mile, and even more so if you include the related "chicken breast". But what we find time and time again is that the actual link clicks don't always reflect what users are searching for. In fact, in the example above, we found that only a couple of the most clicked links are chicken dishes.
So what should the publisher do in this case? Simple: give the people what they're looking for! If your visitors are searching for chicken, make sure you have enough content for them. Otherwise, they might find it somewhere else.
3) Identifying your most related content pairs
Finally, we get to the recommendations tab. This tab shows the connections between content, by singling out the number of people who moved from one post to other. This is an extremely quick way to identify the best opportunities for content clustering.
What are content clusters, you ask? They're groups of closely related posts, usually organized around a specific topic or keyword. Publishers sometimes avoid these, because they're afraid that a new post that's too close to an old one will cannibalize the former's traffic. But what we find is just the opposite.
A user who has come to your site via a piece of content on a specific topic is extremely likely to be interested in more posts like it. And if they don't see anything relevant, they're prone to return to the search engine they came from and go somewhere else. Many of our highest performing sites use this information to great effect, and create a group of related content around each of their most popular posts.
This can make the difference between a bounce and a multi-page session, or an unengaged user and a newsletter subscriber. Let's take a look at what this looks like in action in the recommendations tab: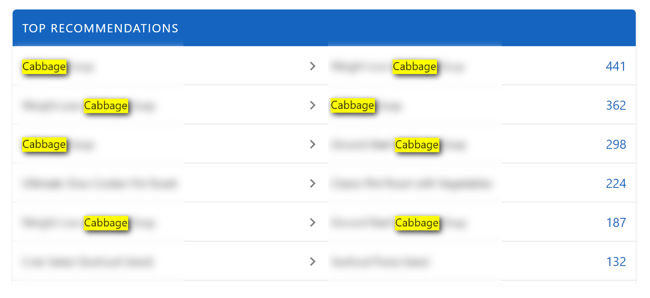 The above Slickstream user is having a cabbage moment. They have several posts on cabbage, all of which are performing well individually. More importantly, however, they're all creating traffic for each other. Four of their top five content pairs are on cabbage-related content, generating a large amount of additional traffic internally and keeping their cabbage-starved visitors happy.
In all seriousness, though, you can use the recommendations tab to identify which topics visitors are clicking on next. If it's not something you have a lot of, it may be a sign you need to create some.
---
So there you have it: three specific ways to use your Slickstream data to guide your strategy and increase growth. But that's really only scratching the surface of what's available. If you're using Slickstream data in a different way, we'd love to hear about it. And if there's information that would be helpful that we're not providing, we'd really love to hear about it. Basically we like hearing from you.
And if for some reason you don't have Slickstream yet, what are you waiting for? Sign up today!